Exhaust System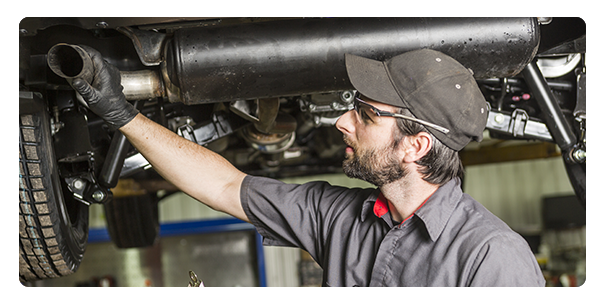 ---
Have you been filling up your gas tank more often than normal? That could mean there's a problem with your exhaust! It could even mean your exhaust is leaking, causing your engine to use more fuel as it works harder. Don't waste money constantly filling up your tank! Bring your car to County Club Tires & Muffler, we can help!
One of your exhaust's worst enemies is rust. When you turn your car off, water vapor on the exhaust pipes from rain or other elements condenses into a liquid. If you take short trips in your car, that condensation does not get hot enough to turn back into water vapor. It could stay in the system and, eventually, turn into corrosion.
---
Here at County Club Tires & Muffler, we can help determine the best way to fix your rusted, old, or leaking exhaust pipe! We offer many diagnostic and repair services, including:
Catalytic Converter Repair & Replacement
Exhaust Pipe Repair & Replacement
Flex-Pipe Repair & Replacement
High Performance Exhaust Installation & Replacement
Manifold Repair & Replacement
Muffler Repair & Replacement
Oxygen Sensor Repair & Replacement
Tail Pipe Repair & Replacement
…& More!
---
Whether it's your catalytic convertor, muffler, or exhaust pipe, County Club Tires & Muffler is here for you! Our expert technicians are trained to diagnose and repair any issue with your vehicle's exhaust system. It's important to ensure that your exhaust system is in top shape to help keep you and your passengers safe on the road.
Your exhaust system is vital to your vehicle. If you notice any new vibrations, fuel usage or strange sounds, don't take any chances! Bring your car to Country Club Tires & Muffler and let our expert diagnose and repair your exhaust. Our certified technicians will get you back on the road faster and safer!
If you have any questions about your exhaust and muffler system, bring your car to Country Club Tires & Muffler or call today! You'll be glad you did!